Own a Print
I will be listing prints here, on an ad-hoc basis, for sale.
Due to the process required in creating these prints in the darkroom and the traditional chemistry used there may be slight variations in each image produced. This is something to be celebrated as it makes each print unique in its own way.
Mini-Zines During 2020 I am going to make available a mini-zine from each roll of film I shoot.
This will be a Free item you can either view as a pdf or ideally PRINT it out on a single sheet of A4 paper, double-sided. You'll need to search online for: Zine-Fold to see HowTo fold these into a booklet form.
They will all be listed here.
#1 – Brownie Camera Guy P-400, Acharacle & Corran, Scotland #2 – Kentmere PAN 400, To The Sea #3 – Brownie Camera Guy P-400, Fishing Fleet #4 – Kentmere PAN400, Fort William and The Road to the Isles #5 – ORWO N75, Glen Nevis – Water #6 – Ilford HP5+, Glimpse of Glasgow #7 – Ilford HP5+, Glencoe and Falls of Falloch #8 – Ilford HP5+, Longhouse Greenhouse #9 – Santa Rae 1000 @ 1600, Low light during Lockdown #10 – Kodak 5222 Double-XX, Inverlochy Castle – pre-lockdown #11 – Santa Rae 1000 @ 800 (+1/0/-1), Our Garden #12 – ORWO N74 @ 320, Pakwaci goes East
---
I have produced a Zine of 2019. It comes in two parts – one Black & White and one Colour.
A5, printed on 140g matt paper + 240g gloss covers.
Pt1 – 16 pages, 29 images Pt2 – 8 pages, 16 images
Here's a look at the covers: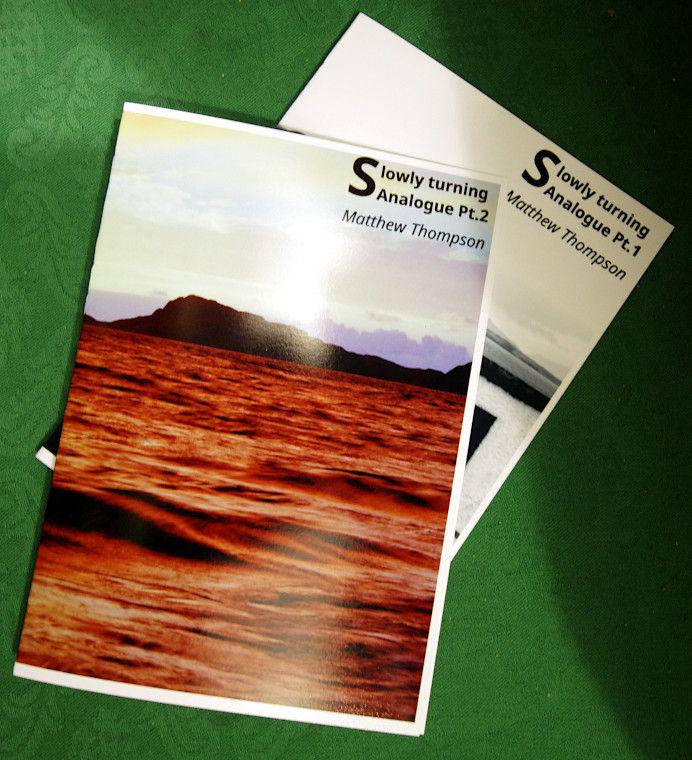 I am printing these on demand but limited to 25 impressions. Additionally the first three to be sold will also include a Hand-Printed 6" x 4" black and white darkroom print.
Price:
£8.50
Postage at cost (Worldwide)
---
My most recent prints. Out of the three this one is available as a one-off.
Title: Cascade – Milburn, Knoydart, 2019. Print Size: 10 x 8 inches Print Type: Adox MCC 112 Fibre Paper Mat/Frame Size: Unmounted Print Edition: 1/1 Print Info: – Selenium toned for archival permanence – Image is hand printed in the darkroom using traditional techniques, signed, numbered. – Accompanied by the Details – Short dialogue, background story to the creation of the image – Camera, Film/Negative & Printing information
Price:
One Print ONLY @ £45.00.
Postage included (Worldwide)
---
Recently this image was selected for Analog Forever magazine for their monthly Online Group Exhibition. I am offering 20 images as a Limited Edition print.

Title: The Canoe, 2019. Print Size: 4 x 4 inches Print Type: Ilford Warmtone RC paper Mat/Frame Size: 12 x12 inches Print Edition: 1/20 Print Info: – Selenium toned for archival permanence – Images are hand printed in the darkroom using traditional techniques and matted in archival white mat board with acid-free foam core backing. All mats signed, numbered and ready for framing. – Accompanied by the Details – Short dialogue, background story to the creation of the image – Camera, Film/Negative & Printing information
Price:
First five prints @ £15.00 each.
Prints 6 – 10 @ £18.00 each.
Prints 11 – 20 @ £21.00 each.
Postage included (Worldwide)